Here's a briefing on the Indian election which I prepared for Thesigers: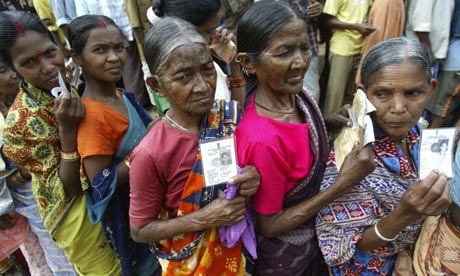 KEY POINTS:
Structural reforms to address corruption and unemployment are unlikely regardless of the winner. Frontrunner Narendra Modi promises more effective administration rather than reform.
The Congress party's ambitious legislative agenda has been undermined at the implementation stage, and by the stranglehold of the Gandhi family.
Although sectarian groups may be bolstered by his victory, Modi's Hindu nationalism will be tempered by the need to appeal to a diverse audience.
Identity politics remains a major factor, acting as a further brake on reform prospects.
A common discourse around the Indian elections sees the opposition BJP as a right-wing, pro-business party that will return the country to growth, contrasted against the welfare-focused, anti-reform Congress party whose decade in power has allowed the country's rapid growth rates to wane and steered the country towards economic crisis.
But questions of economic policy are not relevant to the Indian election. Right/left definitions do not apply to India's political parties, which lack distinctive economic ideologies. Rather, the election has been fought over which party can govern effectively – as measured by the ability to allocate resources for tangible projects with minimal waste and delay. As a result, much-needed structural reforms currently appear unlikely regardless of the victor.
Although the BJP's prime ministerial candidate Narendra Modi has generated huge support by speaking the language of empowerment rather than patronage, his party is committed to continuing and even expanding on the Congress party's welfare programmes, including huge subsidies for food, housing and fuel. Modi has only sought to differentiate himself in terms of his ability to effectively administer these programmes, contrasting himself with the often inept and corrupt handling of welfare schemes – as well as natural resource projects – under the Congress government.
Markets have already factored in a Modi victory, which may lead to disappointing post-election economic results unless his administration takes surprise decisions not included in the manifesto or campaign.
Modi has been helped by the continued stranglehold of the Nehru-Gandhi dynasty over the Congress party, which has become a symbol of Delhi's venal politics, has prevented the ascent of more able young leaders, and has saddled the party with a deeply reluctant and uncharismatic leader in Rahul Gandhi.
The decade of Congress rule has nonetheless left an impressive legislative record, with landmark laws passed on the right to information, land acquisition, forest land rights and much else. Belatedly, it has taken steps to rein in spending and encourage foreign investment – at times in the face of stiff opposition from the BJP. However, implementation has often been a problem.
Modi has not presented any major reform proposals, preferring to concentrate on uncontroversial areas, particularly plans for new infrastructure such as high-speed rail links, increased internet access, and the development of ports and rivers.
It is unclear whether he can address the root cause of delays and corruption, which lies in the continued discretionary power of officials, and the lack of clear and transparent regulatory frameworks. Of late, these have increasingly left honest officials afraid to take decisions for fear they will be accused of graft. Modi has argued he will be able to cut through these delays through sheer will, but he will face a far more complex regulatory mess at the national level than he did in Gujarat.
Neither party has discussed perhaps the most fundamental challenge facing the country – the lack of employment. Highly stringent labour laws have prevented the creation of a large-scale manufacturing sector – vital to absorbing the one million Indians that reach working age every month. Employment remained stagnant during the five years to 2010 when the economy was booming, yet no political party has offered structural reforms to address this central concern. Privatisation, which helped unleash growth in other areas, does not feature in the manifestos of either the BJP or Congress.
Foreign coverage of the election has often focused on Modi's history of sectarianism, particularly in relation to the 2002 anti-Muslim riots in Gujarat shortly after he became chief minister. Although his accession to the premiership might empower Hindu nationalists, Modi's desire to appeal across India's hugely diverse population and build trade ties abroad, will act as a brake on sectarian impulses.
Despite the rhetorical focus on development and governance, the primary consideration in many areas will remain identity – in terms of ethnicity, religion, caste and regional affiliation. At the local level, parties have largely selected candidates that can deliver blocks of voters along these lines. This explains the continued strength of regional parties, who display little interest in structural reform and may act as an obstacle to legislative change or efforts to curb corruption.